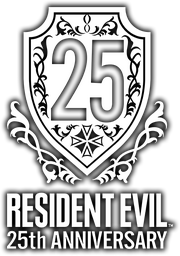 The Resident Evil 25th Anniversary is an anniversary campaign for the Resident Evil franchise set to start on March 22, 2021.[1]
The campaign was first announced during the 2020 Tokyo Game Show.
Events and releases
To celebrate the 25th Anniversary, Capcom is going to release a brand new CGI series in 2021 titled Resident Evil: Infinite Darkness, this show was officially announced during the 2020 TGS.[2]
The Resident Evil Re:Verse closed beta was originally announced as the "Resident Evil 25th Anniversary Title Closed Beta Test".[3] Resident Evil Re:Verse itself is a game meant to celebrate the anniversary, as it was stated in the Resident Evil Showcase (January 2021). The showcase event also announced the Tom Clancy's The Division 2 x Resident Evil 25th Anniversary collaboration, likewise, the Dead by Daylight x Resident Evil 25th Anniversary collaboration was announced during the Resident Evil Showcase (April 2021).
As a way to promote Ada Wong and A Dark Agenda releasing in TEPPEN, GungHo made a special giveaway to celebrate the 25th Anniversary of the series. The grand prize was a copy of Resident Evil Village Deluxe Edition, Resident Evil 3 (2020), Resident Evil 2 (2019) for the platform of the winner's choice.[4] The team also set up a "baking stream" as a celebration with community manager Madelyn cosplaying as Jill.[5]
Katie O'Hagan set up a special livestream on her Instagram with fellow Resident Evil voice actors/actresses as a way to celebrate the anniversary.[6] The same applies to Karen Dyer, who hosted a special giveaway of the Play Arts Sheva Alomar figure[7] and Nicole Tompkins who did a live signing with Jeff Schine on her Twitch channel.[8] Pablo Kuntz on the other hand collaborated with a fellow community member to narrate Wesker's Report as a celebration.
March 22 update
As stated during the 2020 Tokyo Game Show, the 25th anniversary would start on March 22, 2021. On this date the Resident Evil Portal received an update where a few new pages were made available to the public.[9] In addition, the Resident Evil Re:Verse open beta was announced on this date.[10]
Resident Evil 25th Anniversary REMIND
Main article: Resident Evil 25th Anniversary REMIND
Messages from the Developers
The site had a special page where select Resident Evil developers had left a message.[11] The Japanese version of the site included additional messsages.[12]
Masachika Kawata
What's kept the Resident Evil series going for 25 years, in my opinion, is threefold:
1) Updating the games to keep up with the latest trends.

2) Taking fan praise and criticism to heart.

3) The developers and other members of Capcom's staff pouring their hearts and souls into the work they do.

We hope fans will continue to enjoy the series!
バイオハザードのシリーズを25年も続けることができたのは時代に併せてシステムや内容を常に見直し続けたこと、ファンの皆様から激励やお叱りを永らく頂けたこと、
そこから開発をはじめとしたカプコンスタッフが奮闘できたことが大きな要因だと思っています。

皆さん、これからもよろしくお願いいたします。
Tsuyoshi Kanda
The Resident Evil series is celebrating its 25th anniversary, and it's all thanks to you!

Support from fans all over the world has allowed us to expand the series and take it in new and exciting directions. I can't begin to thank you all enough! Here's to another 25 years!
バイオ25周年!
本当にいつも応援ありがとうございます!!

世界中の多くの方々のサポートのお陰で、今なお新たなチャレンジをお届けできる、そのことを思うと感謝しかございません!これからも応援よろしくお願いいたします!!
Yasuhiro Ampo
It's hard to believe it's been 25 years since Resident Evil first clawed its way into the gaming world and introduced players to survival horror.

We've done a lot to flesh out colorful characters and creatures, and we hope to keep the series going for years to come!
祝バイオハザード25周年!
サバイバルホラーというマニアックなゲームが、ここまで長く受け入れられるとは、思いもしませんでした。

これまで登場したキャラクターやクリーチャーたちにはそれぞれに思い入れがありますので、これからもシリーズが続けられるように精進して参ります!
Kazunori Kadoi
I worked on the original Resident Evil back in the day, and if you had told me then that I'd still be working on the series 25 years later, I probably wouldn't believe you.

What's kept me going all these years is the love and support fans continue to show the series.

I hope we can keep making games that shock and horrify (in good ways!) for years to come!
初代バイオを作っていた新人の頃の自分に、25年後も同シリーズを作り続けていると言っても信じてもらえないことでしょう。

こんなにも長い間、シリーズを支え続けていただいた全ての方々に感謝です。

今後も皆様の期待に添い、また良い意味で裏切るような作品を目指して頑張ります!
Morimasa Sato
When I played the first Resident Evil game back in the day, I was just a young boy naive to the world of horror.
Now I've been totally consumed by its games and movies!
That obsession's led me to work on the Resident Evil series, which celebrates its 25th anniversary this year.

I'm working on the next entry, Resident Evil Village, and this is my first game as a director. Please enjoy it!
「バイオ」1作目が出た当時、僕はホラーのホの字も知らない無垢な少年でした。
それがバイオにハマったおかげで、今じゃホラーゲーム&映画漬けな立派な大人となりました。
おまけにバイオの制作にも携わることになるとは、もうバイオ尽くしの25年ですね…。

そんな僕の初監督作品『バイオハザード ヴィレッジ』。どうかよろしくお願いします!
Tomonori Takano
When I played the first Resident Evil as a kid, I was blown away by how realistic horror games could be.
And now, 15 years later, I'm not only still playing the games, I'm making them too! I'm so happy the Resident Evil series is celebrating its 25th anniversary!

The games hold a special place in my heart, and I hope they'll continue to do the same for other fans going forward!
学生時代に初めてバイオ1をプレイしたのがきっかけで、こんなリアルで怖いゲーム遊んだことない!と当時衝撃を受けました。そして気づくと作る側に回って早15年…。

25周年おめでとうございます。これからも当時の僕のように、ファンの方の記憶に残るようなゲームを作るために精進して参ります。
Additional messages (exclusive to the Japanese page)
Download Material
The site had a "material" page where users could download images. There were wallpapers, stamps and different versions of the anniversary's logo. Both pages included the logos with the series' name in English and Japanese. Only users who were logged in could download the content.[13]
Wallpapers
Stamps
Logos
Gallery
External links
References
25th Anniversary
Go back to: Anniversaries
Titles
Collaborations
Productions
Other
Community content is available under
CC-BY-SA
unless otherwise noted.