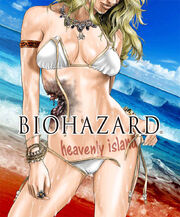 BIOHAZARD heavenly island (バイオハザード〜ヘヴンリーアイランド) is a manga series published from 2015 to 2017 in Weekly Shonen Champion. A tie-in to Resident Evil: Revelations 2  and Resident Evil: Umbrella Corps but set after the events of Resident Evil 6, the manga is written by Dai Satou with art from Naoki Serizawa.[1][2] who also did art for Resident Evil: The Marhawa Desire for the weekly magazine as well.[3]
The first tankōbon volume was released on March 6, 2015, with four subsequent volumes released through February 8, 2017. The manga has also been released in France by Kurokawa, and in Germany by Kazé. The Japanese version of Resident Evil Zero's HD Remaster also included a T-shirt for Rebecca Chambers that was meant to promote the manga series.
Plot
Takeru Tominaga, a young assistant director on the popular TV show Idol Survival, arrives with the staff and competing idols on the island of Sonido de Tortuga to film the latest season. After encountering a mysterious "village shaman" and a voudou ritual, Tominaga and the other visitors find themselves in the middle of a zombie outbreak. At the same time, TerraSave sends Claire Redfield and Inéz Diaco to the scene to investigate reports of a biohazard outbreak, only to find deadly new B.O.W.s hidden within Tortuga. With their routes of escape cut off and mysterious parties working behind the scenes, both the Idol Survival crew and TerraSave's officers must fight their way through this new disaster.
Volumes
Further notes
When Capcom provided the scenario for the manga, Serizawa was concerned their proposal was too extreme for a shounen manga.[4]
Sources