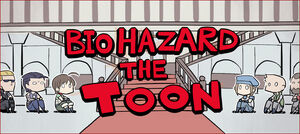 BIOHAZARD the Toon (バイオ4コマまんが「BIOHAZARD THE TOON」, Baio 4koma manga 'BIOHAZARD THE TOON'?, lit. Bio 4 Panel Comic "Biohazard the Toon") is a web comic published in CLUB96.
The webcomic features a humorous take on the RE series in "4koma" format (four panels one over the other). The comic features English as the written language inside the comic itself with Japanese language text outside, emulating how early games in the series exclusively featured English voice over even in the Japanese versions.
Community content is available under
CC-BY-SA
unless otherwise noted.