BIO HAZARD ~Makoba Village Tragedy~ SOUND DRAMA (バイオハザード ~マコバヴィレッジの惨劇~, Baiohazādo ~ makoba virejji no sangeki ~ ?) is a radio play written by Sadayuki Murai (村井 さだゆき). It was produced by Sony Records with a catalogue of SRCL-4181.[2][3] Its story serves as a prelude to the events of the first Resident Evil game.
Plot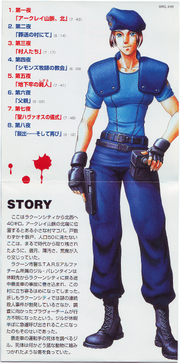 Tracklist
No.
Title
Length
1.

"First Night: "Arklay Mountain Range, North""

(Dai ichi-yo 'ākurei sanmyaku, kita' (

第一夜「アークレイ山脈、 北」

))
07:43
2.

"Second Night: "Attending a Funeral in the Village""

(Dai ni-yo 'sōsō no mura nite' (

第二夜「葬送の村にて」

))
06:14
3.

"Third Night: "The Villagers""

(Dai san-yo 'murabito-tachi' (

第三夜「村人たち」

))
07:19
4.

"Fourth Night: "Pastor Simmons' Church""

(Dai shi-yo 'shimonzu-bokushi no kyōkai' (

第四夜「シモンズ牧師の教会」

))
06:09
5.

"Fifth Night: "Corpse in the Dungeon""

(Dai go-yo 'chikarō no shibito' (

第五夜「地下牢の屍人しびと」

))
07:41
6.

"Sixth Night: "Father""

(Dai roku-yo 'chichioya' (

第六夜「父親」

))
05:03
7.

"Seventh Night: "Ceremony of Saint Harvos""

(Dai nana-yo 'Sei-havaosu no gishiki' (

第七夜「聖ハヴァオスの儀式」

))
07:48
8.

"Eighth Night: "The Escape ... And, Again""

(Dai hachi-yo 'dasshutsu… soshite futatabi' (

第八夜「脱出…そして再び」

))
09:12
Cast
Staff
Screenplay: Sadayuki Murai (村井さだゆき)
Director: Tsukasa Satō (佐藤 司)
Music: Yoshiyuki Itō (伊藤 よしゆき)
Sound: Tomizawa Yoshikō (富沢淑光), Fuyuhei Ozawa (小沢冬平)
Effects:

Sound Art: Ken Nakamoto (中本 健), Yoshihiko Maki (牧頼能彦)
Systema Artista: Ishiwatari Jin (石渡 仁), Masato Ishiwatari (石渡正人), Satoshi Katsumata (勝俣 きさとし)

Sound Producer: Tsukasa Satō (佐藤 司)
Producer: Satoru Kadowaki (門脇 覚)
Director: Jun Kanemaru (金丸 潤)
Mastering Engineer: Toshiya Horiuchi (堀内寿哉)
Art Direction & Design: Etsuko Oka (岡 悦子)
Coordination: Miki Shirono (城野美貴), Terumi Katō (加藤照美)
Promotion: Arika Maruta (丸田 彰), Yūji Murase (村瀬雄司)
Special Thanks to: Mareo Yamada (山田まれお), Toshiaki Nakazawa (中沢敏明), Hiroshi Nishimura (西村大志), Takami Suzuki (鈴木隆美), Toshi Watanabe (渡部寿)
Gallery
Sources
↑ バイオハザード~マコバヴィレッジの惨劇~: 音楽

(Japanese)

. amazon.co.jp. Retrieved on 2013-03-13.
Community content is available under
CC-BY-SA
unless otherwise noted.