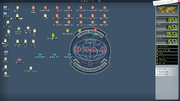 The BSAA Remote Desktop (BSAAリモートデスクトップ, BSAA rimōto desukutoppu?) was a supplemental website for Resident Evil 5, though was unique to Capcom Japan. In the story, it is the computer account of "Ryan", a BSAA West Africa branch information analyst, and serves to describe the events leading up to Resident Evil 5.[1]
Storyline
Kijuju is a town in an unnamed West African nation, which is recovering from a recent civil war. Terrorism is a serious threat to the state, and Kijuju is no exception. Following a spate of attacks by nationalist mobs on foreigners along with unexplained animal attacks, BSAA spy Reynard Fisher begins filing his reports to Ryan on 13 February 2009. Over the coming days he describes his suspicions that a terrorist organisation has begun obtaining a mutant Plaga species to use as a recruiting tool to complete their racist agenda. Though HQ is not convinced by the circumstantial evidence, using the Experience Kijuju blog, a photograph of suspected bioweapons smuggler Ricardo Irving gets their attention. With help from North America Branch SOA Chris Redfield, an international investigation uncovers his next intended trip to Kijuju with an unnamed American business partner. A major operation is set-up, but is planned to only deal with arresting Irving and his partner, with no plans for dealing with potential B.O.W. activity, much to Fisher's worry. As the operation day approaches, Fisher begins reporting his concerns about the long rumoured "Uroboros Project", which is being talked about by the locals.
Reports
The Reports, indicated by their titling and salmon hue, are reports authored by Reynard Fisher, who is the spy that Chris Redfield and Sheva Alomar meet in Kijuju. He details his growing evidence of bioterrorist activities in the region since the autonomous region's destabilization after a recent regime-change in the country. The numbers in the reports indicate the dates. For example, Report 090213 was published on the date 2009-02-13 (February 13, 2009). The final report, Report 090309, was sent on March 9.
Contents
Umbrella
This folder contains three files, relating to the fall of the Umbrella Corporation. Two of them made it into Biohazard Archives II.
Content
Shortcuts
Gallery
Note: the 3 training pictures can be used as wallpapers for the BSAA Remote Desktop.
Sources
External links