Prime universe
(Capcom's primary storyline)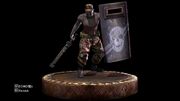 The "Base Majini" were a security force which served Tricell in defending their top-secret bio-weapons development facility near Kijuju. The Base Majini were individually formerly soldiers or insurgents native to Kijuju's country, parasitised by a Plaga.[1][excerpt 1] Due to their familiarity with weapons, the Base Majini were armed with Stun Rods, AK-47s, rocket launchers, hand grenades and bullet-proof shields.
Gallery
Further notes
They are very similar to the Militia in Resident Evil 4, as they both also use stun rods (occasionally with bullet-proof tower shields) and Rocket Launchers, the only major difference being that Base Majini wield AK-74 assault rifles.
The Base Majini can be unlocked as two Figurines: "Base A" and "Base B".
The Stun Rod attacks are likely to compensate for the grab attack that both the Wetlands Majini and Town Majini utilizes against the player which involves attacking the player with the parasite in their mouths. Only time when the Base Majini reveal the plaga parasite from their mouths is only to taunt their targets.
Strangely, some of the Base Majini are seen wearing a grenade belt which holds "pineapple" grenades but throws a grenade that resembles Stielhandgranate or "Potato masher".
Bibliography
Sources
excerpts
↑ BIOHAZARD 5 OFFICIAL ART WORKS, p.143:群れて襲ってくる市民マジニと違って、 元兵隊なので訓練された強さを持っているマジニです。 手榴弾を着けていたら上半身を撃つと爆発するとか、 ヘルメットをかぶっていたら頭を撃てないとか、 装備によってギミック的なバリエーションをつけています。次の2ページはさまざまなパーツのバリエーションです。
references
↑ BIOHAZARD 5 OFFICIAL ART WORKS, p.143.
Community content is available under
CC-BY-SA
unless otherwise noted.