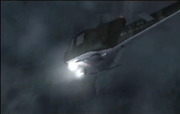 The S.T.A.R.S. unit was provided with two Bell 204B/UH-1 transport helicopters, due to their standing as Raccoon City's primary armed response team, and the fact that the city itself is almost entirely surrounded by mountainous terrain.These helicopters are equipped with searchlights and prominently display the S.T.A.R.S. livery over the body alongside a camouflage paint scheme. As the S.T.A.R.S. team photograph clearly depicts the Eurocopter AS350B in the background, rather than either of the dedicated S.T.A.R.S. Bell 204B/UH-1 models, this helicopter is likely the standard RPD helicopter flown by the RPD as it is seen crashing into the roof of the police precinct during the failed rescue attempt of Officer Elliot Edward when the pilot is hit by stray gunfire. UH-1 helicopters were also dispatched by the U.S. government to support agent Leon S. Kennedy during the Los Iluminados incident in Spain. The first helicopter was shot down by the organization before reaching Leon. The second, a UH-1N Twin Huey gunship, piloted by Mike did meet up with Agent Kennedy during his island assault and provided crucial fire-support against Militia target, before it also was felled by rocket attacks from Los Iluminados. Mike's Huey's armor had been reinforced with enough armor to knock over a tower without damage, as evidenced by its introduction. A third Huey was sent by an unidentified organization to retrieve Ada Wong and a sample of the Plaga parasite following the death of Osmond Saddler.
Sources
Community content is available under
CC-BY-SA
unless otherwise noted.