Arcane: League of Legends - The Loop
Play Sound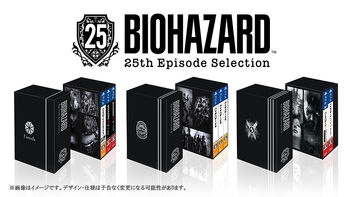 Biohazard 25th Episode Selection is a physical bundle released as part of the series' 25th Anniversary campaign. It is essentially a box set of all the numbered titles.
Details
It was released November 25th, 2021 only in Japan. The set is divided into three separate volumes each with their own box.
Vol. 3 includes 13 types of postcards consisting of various game box-art.
Pre-ordering from certain retailers comes with unique digital wallpapers. Participating stores included Amazon.co.jp, Joshin, and Rakuten Books.
Contents
Biohazard 25th Episode Selection Vol. 1
Biohazard Origins Collection Best Price (includes Biohazard HD Remaster & Biohazard 0 HD Remaster)
Biohazard RE:2 Z Version Best Price
Biohazard RE:3 Z Version
Biohazard 25th Episode Selection Vol. 2
Biohazard 4
Biohazard 5
Biohazard 6
Biohazard 25th Episode Selection Vol. 3
Biohazard 7 resident evil Gold Edition Grotesque Ver. Best Price
Biohazard Village Z Version
Product code for Biohazard RE:Verse
Biohazard series postcard set
Gallery