Bioroid: Year Zero (バイオロイド零年, Baioroido zeronen?), otherwise known as BIOROID ZERO-NEN, is a Japanese stage play based on the Resident Evil franchise. A musical horror-comedy focusing on the zombified civilians' point-of-view, the play was performed by the Super Eccentric Theater ("SET") in a number of locations around Japan in the summer of 2000.[1]
Plot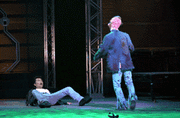 The top-secret planned community, "BioCity" (バイオシティ) suffers an outbreak at the laboratory it serves. Nine years later, a video journalist, Yoppaparatchi, arrives at the scene to investigate sightings of Zombies so long after the initial outbreak. As he interviews members of the BioCity Police Department, Anariaza and Barozu, they are attacked by the zombies. Yoppaparatchi escapes into the woods, where he finds a girl who is able to teach zombies how to speak, and who was responsible for the initial accident as a child when breaking a beaker while playing in the lab
Cast
Performances
The play was toured around Japan over July and August 2000, performed in seven cities: Tokyo; Hiroshima; Fukuoka; Nagoya; Sendai; Sapporo and Osaka.[2]
On July 23 it was performed at the Nagoya Civic Center (名古屋市民会館). It was performed in Sapporo on August 10. The final performance in the tour was at the Osaka Welfare Pension Hall (大阪厚生年金会館) on August 19. The hall has since been torn down to make way for the Orix Theater.
Sources
Community content is available under
CC-BY-SA
unless otherwise noted.