Black Command is a mobile game published by Capcom that has ran two Resident Evil collaboration events.
HUNK the Mission
The "HUNK the Mission" event was announced on 20 December 2018 and lasted from the 26th to January 1 of the new year 2019.
Umbrella soldiers "Rodriguez" and "Murphy" are available to be used as characters to collect "Virus samples" during the event period. Promoting the characters awards the player with HUNK as a character, and Thor's Hammer as a weapon, and a "Rare Virus sample" for each character.
The virus samples can be used to apply for a special lottery where on person can win a real life Thor's Hammer airsoft by Tokyo Marui and 1,000 people can win Jill Valentine as a character in-game. The samples can also used to purchase weapons based on Thor's Hammer and the Samurai Edge as in-game items.
Gallery
Command of the Dead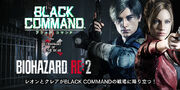 Command of the Dead was announced on 1 February 2019 and ran from 8 February to 18 February 2019 as a promotion for the Resident Evil 2 remake
"Claire" is added to players' selectable characters during the event period. If Claire reaches "Legend" rank she can be kept after the event, otherwise she can not be obtained again. During the event period, "Zombie annihilation missions (ゾンビ殲滅ミッション?)" will be available where the player can obtain "Virus samples" and "Rare virus samples". Virus samples can be exchanged for various regular game items and 10 Rare virus samples can be exchanged once for a Legend ranked Leon character and 5 can be exchanged for "RPD-A" armor up to three times. The "L. Hawk", based on the "Lightning Hawk from weapon is also available to find during the event period.
Gallery
Sources
Community content is available under
CC-BY-SA
unless otherwise noted.