The 2F corridor (2F廊下, 2F rōka?) is an area of the St. Michael Clock Tower in Raccoon City.
Description
As with the first floor, this lobby has many ornate and prestigious furniture and light fixtures.
Guide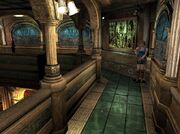 The enemies for this area are the three Giant Spiders. Also, there's an exploding object on the wall, that can help to extract the poisonous foes. The Nemesis will chase Jill on the lobby, if player had choose to used the cord during its encounter at the Balcony Tower.
Examines
There's nothing to examine.
Gallery
Bibliography
Sources
Community content is available under
CC-BY-SA
unless otherwise noted.