Prime universe
(Capcom's primary storyline)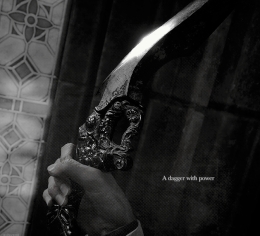 The Dagger of Death's Flowers (死花の短剣, Shi hana no tanken?) is a storied ornate dagger forged during the Medieval Period of Europe. According to lore, the dagger is said to be seeped with countless toxins sought throughout the Eurasian continent in the belief its concentrated lacing of concocted poisons could be able to kill even terrifying and feared creatures such as monsters and demons.[1]
In the 20th century, the dagger made its way into the hands and was used by one man in an assassination attempt on Alcina Dimitrescu, a corrupted and feared noblewoman of an unnamed village in Eastern Europe who reigned terror over the inhabitants. The assassination attempt failed and the dagger was hidden along with the assailant's body in her estate, Castle Dimitrescu, and within the vaulted Temple of Worship to prevent further attempts.[2] Dimitrescu's fears were realized on the afternoon of 9 February 2021, when Ethan Winters, an outsider of the village hunted by her and the local aristocracy as sport during his search of his daughter, stabbed her with the dagger during his search of the castle. Having cornered him in her grasp and with Ethan having retaliated in self defense before she could do him any harm, Dimitrescu was seriously wounded and mutated out of control, her monstrous body unable to fight the toxins that began to eat away at her. The dagger itself was thrown down the cliff edge in the ensuing battle, preventing its further usage and back into legend, where it remains to be rediscovered since.
Gallery
Sources
↑ Resident Evil Village (2021), file: "Rumors of a Dagger".
↑ Resident Evil Village (2021), concept art entry.