The Treatment control room (処理コントロール室, Shori kontorōru-shitsu?)[1] is an area of Incineration Disposal Plant P-12A that is featured in Resident Evil 3: Nemesis.
Guide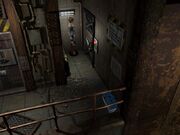 Entering here first time, Jill will encounter five Zombies. In order to open the door to the Treatment room passage corridor, the player must have first completed the steam puzzle in the nearby Facility Power Room as well as the Water Sample puzzle in the Water quality examination room.
If Jill's starting point was the Drainage canal, than the door to the Entrance can be opened from this side.
After the fight with Nemesis, another pack of skinned zombies will spawn here. Also, the huge bubbles can be seen in the treatment pool from here. It's the reference to the alive body of Nemesis.
Examines
Location
Localization
Original Script
The security system (No System power)

There's a security system.

"System power: Stand-by mode. Water check: OK."

"Manual verification is required to unlock."

The security system (After everything is done)

There's a security system. "System power: OK.

Water check: OK."

The door to the Treatment Access Room (Locked)
It is locked by a system.
Blue herbs
There are

Blue Herbs

growing here. Will you use the? Yes/No
The device at the center
Some kind of observation system is running. It seem to have been installed recently.
About to take the map
It's the

Dead Factory Map

.
The door to the Facility Entrance
You've opened the lock.
Gallery
Bibliography
Sources
↑ OFFICIAL GUIDEBOOK, p.306.
Community content is available under
CC-BY-SA
unless otherwise noted.