"There's a scratch. Someone may have used it."
— 1996 Item examination.
"It's galled all around the outer edges due to frequent fitting."
— 2002 Item examination.
The Emblem is a key item that can be found in Resident Evil.
Purpose
It must be swapped with the gold emblem in the Bar to escape a secret passage. The gold emblem can then be used in the dining hall to retrieve the shield key from behind a grandfather clock on the north wall.
Location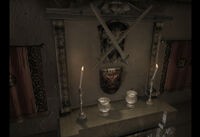 The emblem is a crest found above the fireplace in the dining hall of the Spencer Mansion.
Bibliography
Hamamura, Koichi, ed (2002) (in Japanese). biohazard Kaitai Shinsho. Famitsu. ISBN 4-7577-0980-3.

 

Sumner, Christian; Shotten, Brian; Owen, Michael, eds (9 November 2005). Resident Evil Archives: Umbrella's Virus Uncovered. Translated by Zpang America, Inc.. BradyGames. ISBN 0744006554.

 

Ōno, Tetsuya; Masui, Kō, eds (31 March 2005). biohazard archives. Famitsu. ISBN 4-906-582-31-1.

 
Sources
Community content is available under
CC-BY-SA
unless otherwise noted.