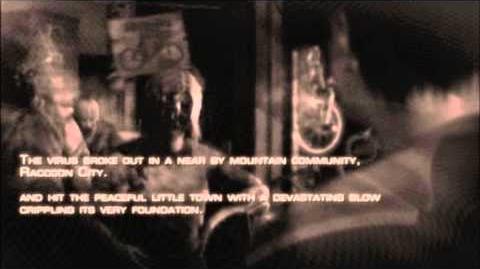 End of Umbrella is opening cutscene to Resident Evil 4, serving as a prologue.
Plot
This scene is narrated by Leon about the downfall of the Umbrella Corporation.
Transcript
The Japanese transcript was obtained from ghiaccio.sakura.ne.jp.[1]
Leon S. Kennedy: 1998... I'll never forget it.
It was the year when those grisly murders occurred in the Arklay Mountains.
Soon after, the news was out to the whole world revealing that it was the fault of a secret viral experiment conducted by the international pharmaceutical enterprise, Umbrella.
The Virus broke out in a nearby mountain community, Raccoon City and hit the peaceful little town with a devastating blow crippling its very foundation.
Not taking any chances, the President of the United States ordered a contingency plan - To sterilise Raccoon City.
With the whole affair gone public, the United States Government issued an Immediate Suspension of Business Decree to Umbrella.
Soon its stock prices crashed and for all intents and purposes, Umbrella was finished.

Six years have passed since that horrendous incident...
Leon S. Kennedy: 1998年

俺にはトラウマだ

発端はアークレイ山地での
猟奇殺人事件だった

この裏にはアンブレラ社の
ウィルス実験が絡んでいた



T-ウィルスが
ラクーンシティに流出

人は次々とゾンビ化し
市全域が地獄となった

事態を重くみた大統領
及び連邦議会は―
市全域の『滅菌作戦』を
実行に移した

政府はアンブレラ社に対し
業務停止命令を発し



株価は暴落
事実上の崩壊となった


あの事件から6年…
Sources
↑ バイオハザード4 全セリフ集

(Japanese)

. ghiaccio.sakura.ne.jp. Retrieved on 2018-05-31.
Community content is available under
CC-BY-SA
unless otherwise noted.