Prime universe
(Capcom's primary storyline)
Ennerdale Street abbreviated as "Ennerdale St." was a major road in Raccoon City featured both in Resident Evil 2 and Resident Evil 3: Nemesis; the Raccoon Police Station's front was on this street. Raccoon City Tattoo is also located here.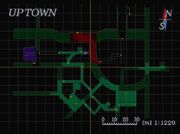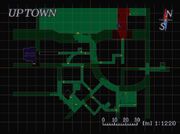 Resident Evil 2
Leon or Claire can enter this road from the Billboard in Scenario A. There will be a couple of zombies appears to be eating in the right side though they are easily avoided by running on the side before they can notice you. In order to get through the street, Leon or Claire must pass through the bus. The Police station front entrance are just up ahead, so watch out for a multiple RPD cop zombies along the way. 
Resident Evil 3
Jill also ventures to Ennerdale street to get to the Raccon Police Department, though she went through Fisson Street.
Further notes
Gallery
Community content is available under
CC-BY-SA
unless otherwise noted.