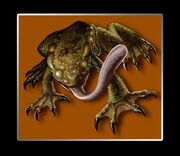 FILE:07 Lurker (FILE:07 ラーカー?) is a file in the CLUB96 "digital archive". Members of the fanclub can access it here. It was localized by RE.NET here.
Transcript
Description:
A B.O.W. created during initial T-Virus research when compatibility screenings of various species with the virus resulted in a number of failed experiments. The Lurker was the result of a compatibility screening with an amphibian—specifically, a frog. Although highly aggressive, its low intelligence hindered its implementation as a B.O.W.—Lurkers display no brain development after infection with the T-Virus and cannot be controlled, a severe blow to their usefulness as a weapon. It is therefore believed that amphibians are not sufficiently compatible with the T-Virus, and the failure of a later amphibian-based project, the Hunter γ, points to a similar conclusion.

Notes:
Lurkers appear in RE0 and, while they are by nature limited to the water areas, the sight of what looks like an enormous frog can be somewhat disturbing. Their long tongue attack makes them reminiscent of the Licker, but what makes the Lurker different is that it will actually swallow the player whole after attacking. It is a good idea to make sure your partner is well armed in areas where Lurkers appear, as this attack causes instant death if successful.
初期のt-ウイルス研究で生まれたB.O.W.。研究が始まって間もない頃、t-ウイルスに適合する種の選定ではさまざまな失敗作が生まれた。『ラーカー』もそのひとつで、ベースは両生類のカエルとなっている。優れた攻撃性を持ちながらB.O.W.として実用化できなかった原因は、知能の低さにある。t-ウイルス投与後もラーカーには一向に脳の発達が見られず、兵器として制御するまでにはいたらなかった。これを見ると、両生類はt-ウイルスへの適合能力に欠けると思われ、後に開発されたハンターy型でも両生類ベース特有の失敗結果が出ている。

---
ゲームでは?

バイオハザード0で登場したラーカー。そのモチーフから出現は水際に限られているが、巨大なカエルと言う見た目でインパクトは抜群と言える。長い舌を使った攻撃はバイオ0版リッカーといった趣きだが、一番の違いはその舌を使った後。なんと、プレイヤーを飲み込んでしまうのである。この攻撃は、即死攻撃なので注意が必要だ。それを避けるためにも、ラーカーが出現するエリアでは、パートナーにも武器を預けておいた方が良いだろう。
Community content is available under
CC-BY-SA
unless otherwise noted.