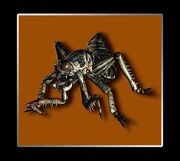 FILE:22 Plague Crawler (FILE:22 プレイグクローラー?) is a file in the CLUB96 "digital archive". Members of the fanclub can access it here. The official RE.NET localization can be found here.
Transcript
Description:
A B.O.W. developed by genetically manipulating multiple generations of T-Virus infected insect species. Created in the early days of T-Virus research, the Plague Crawler is around two meters in size and has giant, lethal, scythe-like forearms. While it was ultimately found to be unsuitable for use in actual combat, and further research was canceled and the specimens destroyed, a number of Plague Crawlers were able to escape processing at the Umbrella Management Training Facility, so the species cannot be said to be completely extinct.

Notes:
Manipulating the genes of creatures to improve them or to produce a new species is a process that happens in the real world, but the use of the T-Virus produces far more drastic results such as the sporadic mutation of a creature's features, or the merging of multiple creatures into a single organism. Together with gigantism and the accelerated evolution mentioned earlier, this merging ability is another one of the T-Virus's more obvious features.
さまざまな種類の昆虫にt-ウィルスを投与し、遺伝子操作を繰り返した結果生み出された昆虫型B.O.W.。比較的初期に開発されたのもので、t-ウィルスによって2メートル近くまで巨大化した体に、殺傷能力の高い巨大な鎌を持つ。実際はとてもB.O.W.として実践投入できる代物ではなく、開発中止と共に廃棄処分となった。ただし、アンブレラ幹部養成所に存在した一部が廃棄を逃れた為処理は不完全だったといわざるを得ない。

---
ゲームでは?

複数の生物の遺伝子を操作して新たな種を生み出したり、改良を行うことは現実世界でも行われているが、t-ウィルスを用いたそれは、さらにドラスティックだ。その生物が持つ特徴をいびつに進化させたり、複数の生物の特徴を一つにまとめたりと、その事例は様々である。t-ウィルスには、これまでに説明した生物の巨大化や急激な進化だけではなく、複数の遺伝子をスムーズにまとめて結合させる効果もあると考えるのが自然であろう。
Community content is available under
CC-BY-SA
unless otherwise noted.