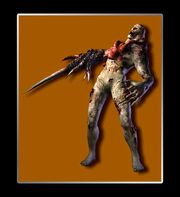 FILE:25 Proto Tyrant (FILE:25 プロトタイラント?) is a file in the CLUB96 "digital archive". Members of the fanclub can access it here. It was localized by RE.NET here.
Transcript
Description:
A prototype of the "ultimate life form" B.O.W., the Tyrant. Like the production model, its heart is exposed, and due to excessive skin decay its spinal cord is also visible. While its external appearance leaves no doubt as to its incompleteness, its physiological features match those of the production model and it met its designated targets as a prototype. The Proto Tyrant's aggressiveness in particular closely resembles that of the production model once freed of its Power Limiter, and it also displays outstanding vitality.

Notes:
The T in T-Virus stands for Tyrant. This is a clear indication of the primary goal of T-Virus related B.O.W. research: the Tyrant series. In the case of the Proto Tyrant, the amount of brain development necessary to execute orders was underestimated, and this, along with other adverse effects caused by excessive use of the T-Virus, led to its failure. While its external appearance may not make up for its shortcomings in any practical sense, compared to the production model, it is perhaps more representative of the "horror" of Resident Evil.
"究極の生命体"をめざして開発されたB.O.W.「タイラント」の試作型。完成型と同様に心臓が胸部に露出しており、さらに皮膚が腐れ落ちたことで脊髄までが露になっている。外見的にも不完全さは否定できないが、身体機能は完成型と比べても遜色なく、試作段階から目標をクリアしていたことが分かる。特に攻撃性の面では、まるでリミッター解除後の完成型を彷彿とさせる凶暴さで、驚異的な生命力を持っている。

---
ゲームでは?

「t-ウィルス」のtとは、「タイラント(tyrant)」のtである。このネーミングからも、t-ウィルスを用いたB.O.W.開発の一つの完成形が、このタイラントシリーズと言っても過言ではないだろう。しかし、このプロトタイラントは、t-ウィルスが極度に作用したために、命令実行に必要な知能の発達が見込めなかったという、t-ウィルスが逆作用を及ぼした言わば失敗作である。その代わりではないが、その外観は、その後の完成度の高いタイラントと比較すると恐ろしく、バイオハザードらしい「恐怖」を感じる敵となっている。
Community content is available under
CC-BY-SA
unless otherwise noted.