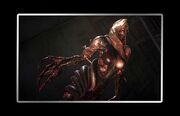 FILE:36 Rachael Ooze (FILE:36 レイチェルウーズ?) is a file in the CLUB96 "digital archive". Members of the fanclub can access it here. RE.NET's localization can be found here.
Transcript
Edit
Description:
The mutated form of Rachael, an FBC agent. She was ordered to infiltrate the Queen Zenobia, despite a lack of information, and was assaulted by T-Abyss infected individuals known as Oozes. She mutated into an Ooze herself after succumbing to the Oozes' attacks, but many of her human features were, unusually, preserved. Her rage-filled voice as she draws near makes her more terrifying than many other creatures.

Notes:
In the pilot version of the game included with The Mercenaries 3D, the scene where Rachael is brutally massacred in the crew's living quarters featured a different character called Richard. Although she had a name, Rachael was originally intended to be little more than a mutated character that would attack the player. However, as a result of the pre-launch trailer that fleshed out the story leading up to her death, her popularity now rivals that of some of the other characters.
クイーン・ゼノビアに潜入したFBCエージェントのレイチェル。右も左もわからぬままに潜入工作を命じられた彼女が遭遇したのは、t-Abyssによって変異した人間、ウーズであった。ウーズに襲われ絶命した後は、t-Abyssの影響によりウーズ化。しかしその変異の過程は通常のウーズとは若干違っており、ジルが遭遇した時にはまだ人間の面影を残していた。狂気をはらんだ奇声を上げて迫りくる姿は、他のクリーチャー達とは違う恐怖をプレイヤーに与える。
ゲームでは?

船員居住区で惨殺されるレイチェル。「ザ・マーセナリーズ3D」に収録されていたパイロット版では、殺されるのはリチャードと呼ばれる男性エージェントであった。男性から女性に変更された経緯は公式ブログをご覧いただきたい。名前こそあったレイチェルだが、当初は殺され、後にクリーチャー化して襲いかかってくると言うだけのキャラクターであった。だが、発売前にレイチェルが殺されるまでを追ったトレーラーを制作したところ人気が過熱。今では他のキャラクターをしのぐ人気と知名度を持つキャラクターとなった。
Community content is available under
CC-BY-SA
unless otherwise noted.