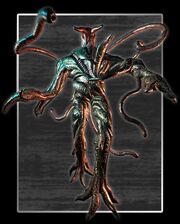 FILE:37 Queen Leech (FILE:37 女王ヒル?) is a file in the CLUB96 "digital archive". Members of the fanclub can access it here. The RE.NET localization can be found here.
Transcript
Description:
As its name suggests, the Queen Leech is the controlling force behind the other mutated leeches. While it usually mimics a youthful Professor Marcus, it can transform into the so-called first form Queen Leech at will. It possesses extraordinarily high intelligence—the result of taking over the corpse of the murdered Professor Marcus and assimilating his DNA over the course of ten years. It came to be known as the Queen Leech for the sake of convenience—leeches are actually hermaphroditic.

Notes:
As the final boss of RE0, the Queen Leech is finished off by a combination of sunlight from the opened roof and a single magnum bullet fired by Billy. It is widely believed that most of the final bosses in the series are defeated with a rocket launcher, but this isn't strictly true, as only the bosses of RE1, RE4, and RE5 meet their doom this way. It isn't absolutely necessary to use the rocket launcher in RE4, and, although it's conceptually similar, Code Veronica's boss is actually defeated with the Linear Launcher. The myth is perpetuated presumably due to the influence of RE1.
変異ヒルの頂点に君臨する「女王ヒル」が、変異を遂げたクリーチャー。ふだんは若き日のマーカス博士の姿を模しており、擬態を解くことで第一形態といわれる異形に変化する。極めて高い知能を有しているが、その思考や人格は10年前に殺害されたマーカス博士そのものである。これは、女王ヒルが彼の遺体に侵入し、長い年月をかけてDNAを取り込んだ為におきた、生物学上驚くべき現象である。なお、ヒルは雌雄同体であるため、「女王ヒル」というのは、群れを統率する姿から便宜上付けられた名称である。
ゲームでは?

バイオハザード0のラスボスである「女王ヒル」。そのとどめを刺すのは、開かれたゲートから降り注ぐ日光、そしてイベント中で撃ちこまれるビリーのマグナム弾である。バイオハザードのラスボスはロケットランチャーでとどめを刺されるイメージが強いが、実はそちらの方が少数派。ラスボス戦でロケットランチャーが登場するのは、バイオ1、4、5(コード:ベロニカは、特殊な「リニアランチャー」)。ただし、バイオ4ではロケットランチャーの使用は必須ではない。バイオのラスボス=ロケットランチャーのイメージは、バイオ1の最後があまりに鮮烈だったために定着したものと思われる。
Community content is available under
CC-BY-SA
unless otherwise noted.