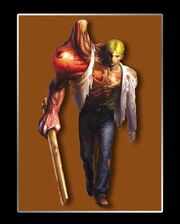 FILE:39 G is a file in the CLUB96 "digital archive". Members of the fanclub can access it here. RE.NET's localization can be found here.
Transcript
Edit
Description:
Unlike the T-Virus which cannot transmit its genes to successive generations, the insidious G-Virus alters the genetic information of infected hosts, allowing it to propagate to the host's descendants. William Birkin injected himself with the G-Virus, his own creation, and mutated into the monster known as G. Ultimately, he lost all sense of reason and set out on a brutal rampage. Having already endowed him with incredible vitality and tenacity, the G-cells continued to mutate and corrupt his flesh.

Notes:
While it is far from uncommon for the final enemy in a game to have multiple forms, a boss with five forms is very unusual, and G may be unique in how it appears midway through the game and continues to change thereafter. As the father of Sherry, the plot surrounding William has also helped cement G's place as one of the most memorable final bosses in the series. Although G is destroyed after the fifth mutation, there may well have been a sixth or even seventh stage had the G-cells progressed further. Should the G-Virus ever return to the series, we may well be able to witness these and further mutations.
一世代で終わりを迎えるt-ウィルスとは異なり、感染した生物が遺伝子レベルで進化・変貌し、子孫まで残せる悪魔の発明「G-ウィルス」。その生みの親であるウィリアム・バーキンが自身の体にG-ウィルスを投与することで変異したのが、通称「G」である。新生物となったウィリアムは、人格と理性を失い凶暴化。驚異的生命力と強靭な腕力を得た後、G細胞の侵食と共に肉体を刻々と変化させていく。
ゲームでは?

最後の敵が多段階の変身を行うことはゲームでは珍しくないが、5段階の変身となると、かなり珍しいと言える。それも、ゲーム途中から出現し、全編で変身の過程を見せていくのは、この「G」ぐらいではないだろうか。それだけではなく、素体となったウィリアムがシェリーの父親であると言うキャラクター性もあいまって、「G」はシリーズの中でも強烈な印象を与えるラスボスとなっている。ちなみに、Gは第5形態を最後に破壊されたが、G細胞の侵食がさらに進んだ場合、第6・第7と進化した可能性は十分にある。今後のシリーズでG-ウィルスが登場した場合、これ以上の多段変身が見れる可能性もあるので、楽しみにしたいところだ。
Community content is available under
CC-BY-SA
unless otherwise noted.