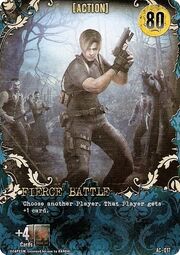 Fierce Battle (AC-017) is an Action card in Resident Evil: The Deck Building Game. First introduced in the second set Alliance, it is the successor of the Ominous Battle (AC-010) card from the base set.
Fierce Battle is similar to The Merchant and Mansion Foyer (AC-001), in that it let's the player draw cards without trashing or discarding any. Currently, it has the highest draw amount of any card effect in the game, which is +4 Cards to the player using this card and +1 Card (through the primary effect) to another player designated by the user. Due to its lack of any other effects, its difficult to use this card multiple times in one turn unless the player uses a strong Action stacking card such as Reload (AC-005) or Uroboros Injection (AC-018) beforehand. Another hindrance is its relatively high Gold Cost of 80. Overall its an effective card for "gearing up" all in one turn.
The artwork on Fierce Battle is the cover artwork for Resident Evil 4 Wii Edition. It depicts Leon S. Kennedy surrounded by Los Ganados from the village and their leader Bitores Mendez.
External links
Edit
Community content is available under
CC-BY-SA
unless otherwise noted.