Film B (フィルムB, Firumu B?) is a file that can be found in Resident Evil 2. It also appears in Resident Evil: The Darkside Chronicles as a text file.
Location
Resident Evil 2
In Resident Evil 2, the film is found in two different locations. During the "A" scenario, the film can be found in the R.P.D.'s press room after obtaining the Club Key. In the "B" scenario, the film is instead found in the back of the evidence room, in the same location where Film A was previously found.
Developing the film in the dark room will create the file.
Resident Evil: The Darkside Chronicles
In Resident Evil: The Darkside Chronicles, the file is found during the Memory of a Lost City 1 scenario. After entering the front entrance area of the R.P.D., Leon and Claire will encounter a path with two ways to go. Choosing to go underground, they will encounter a series of wall-mounted lights. Shoot the third light from the stairs to reveal the file.
Transcript
Resident Evil 2
フィルムB

ARUKAS洋服店前にて撮影
2時間後ゾンビ化

意識を失う直前まで身体のかゆみや嘔吐感を訴えていた


ベン・ベルトリッチ撮影
Resident Evil: The Darkside Chronicles
Pictured in front of the Arukas tailor. Mutated into a Zombie within two hours.

Subject repeatedly complained about severe agitation of the epidermis in addition to feelings of nausea.

Picture by Ben Bertolucci
The original Japanese transcript for this file is not yet present. Please add it.
Gallery
Location
Official English localization
Original Japanese script
Further notes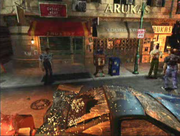 In The Darkside Chronicles, this item is categorized as a text file, not an item file.
The area where the picture was taken is right next to the crash site from the beginning of Resident Evil 2's "A" scenario.
This file describes some the symptoms of t-Virus infection, particularly the skin irritation. A number of files in the game reference this as one of the earliest symptoms, such as the Watchman's diary.
In the original script, the picture is credited to Ben Bertolucci. For reasons unknown, the photographer was changed to "R. Lambert" in the localization. No such character ever appears again and the translation found in The Darkside Chronicles restores Ben's name.
Community content is available under
CC-BY-SA
unless otherwise noted.