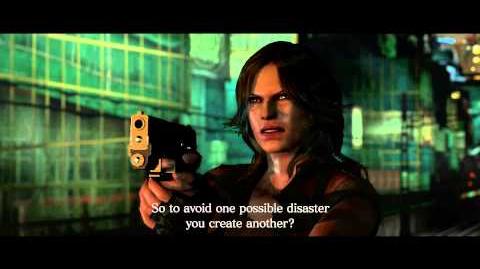 Final Showdown with Derek Simmons is a cutscene in Resident Evil 6. It is played during the fourth chapter of the Leon Story.
Plot
Simmons listens to Carla Radames taunt him over the phone about how she is just turning him into the monster he always was. Angered, he crushes his phone before he can hear the rest of Declaration of Victory. He turns to see Leon and Helena, telling them his actions were justified to maintian the global political order. Seething with anger at Carla's betrayl, Simmons gives in the to the infection, turning into a freakish satyr and then a monstrous k9.
Transcript
The original Japanese transcript for this file is not yet present. Please add it.
Bibliography
Sources
Community content is available under
CC-BY-SA
unless otherwise noted.