World of Warcraft: Dragonflight - The Loop
Play Sound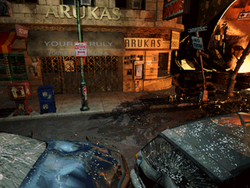 Flower Street was a street in downtown Raccoon City. It is located directly north of the Raccoon Police Station and has notable intersections at Ema Street, Central Avenue, Warren Street, Fox Street, and Davies Street. It continues past the Circular River to a fork at the eastern end of the street that leads into either Good Street or Ennerdale Street.[1]
Description
A number of businesses and important buildings line Flower Street. In addition to the R.P.D., Raccoon City Hall and the post office are on the eastern end of the street. Several local businesses such as Arukas Tailor, Yours Truly Boutique, Imustat Casual Wear, Carnegie Love Delicatessen, Paul's Burgers, and Eagle's Pet Shop can also be found along the street.
At the time of the outbreak, a majority of Flower Street's intersections were blocked by police barricades and wrecked vehicles, limiting travel routes for the remaining survivors.
Resident Evil 2
See main article, Flower Street (RE2)
Claire and Leon are stranded on Flower Street after a massive car crash and are forced to take separate routes to the police department. The eastern side of the crash site leads to the northern parking lot of the department, while the western side leads down an alleyway to the Kendo Gun Shop.
Resident Evil 3: Nemesis
See main articles, Road to the luxury hotel and Road in front of the substation
Jill also explores parts of Flower Street when she makes her way downtown and on her way to the Substation|substation.
Gallery
Further notes
There's a sign advertising "rooms" above Arukas that could give it the appearance of a hotel, but the Film B clearly identifies it as a tailor. Instead, a hotel can be found across the street.
Several businesses have reused names and gibberish on their storefront signs, such as Amagomihs having "Yours Truly Boutiqe [sic] Casual Wear" on the bottom of its sign and Carnegie Love having words and phrases like "madness", "insanity", and "crazy cats" on its awning.
References