Folding Knife is a melee weapon in Resident Evil Outbreak. It is David King's starting weapon with it in his tool box.
Using the knife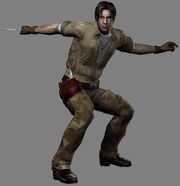 David can be quite dangerous with this equipped, able to initiate a 3-Hit Combo (4-Hit Combo in File 2) and can even strike an enemy from a considerable distance. It is the weakest weapon overall by doing only 40HP to enemies, but it will deal five times more of its base damage to certain bosses, specially the Thanatos.
Locations
It is also obtainable in the Decisions, Decisions scenario in Resident Evil Outbreak and in the Underbelly scenario in Resident Evil Outbreak File #2.
Bibliography
Sources
Community content is available under
CC-BY-SA
unless otherwise noted.