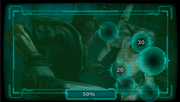 The Genesis Scratchcard was a mini-game featured on Resident Evil.net to promote Resident Evil Revelations in which players earned diorama figures that can then be used on a diorama and displayed on their page.
The figures for Chris Redfield and Jill Valentine were given to those who pre-registered their Revelations account as a promotional bonus.
Currently, the mini-game is no longer accessible and Dioramas can now be purchased with RE Points.
Gameplay
A player is able to access only one scratchcard a day; earning a random diorama figure after clicking on three out of six circles on a screenshot from Resident Evil: Revelations. The circles on the screenshot each contain a number ranging from 0-50. The numbers are obscured and are only revealed after the player has clicked on them. The highest total percentage possible is 100 with the lowest being 15. Depending on the player's overall score, they will receive a certain figure.
Gallery
Community content is available under
CC-BY-SA
unless otherwise noted.