| | |
| --- | --- |
| | This article needs more links to other articles to help integrate it into the wiki. (December 2018) |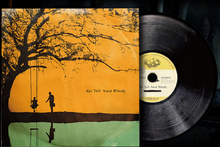 Go Tell Aunt Rhody is a folk song that plays heavily in Resident Evil 7: Biohazard. The song itself dates to the mid-19th century and is written for a young child about the death of the titular Aunt Rhody's geese, to the tune of a composition by Jean-Jacques Rousseau.
Both instrumental and sung versions have been used to advertise Resident Evil 7: Biohazard. The sung version was written and arranged by Michael Levene, with vocals by New Zealander Jordan Reyne. Due to licensing agreements, Jordan was not allowed to confirm her involvement until 14 January 2017.
Go tell Aunt Rhody,
Go tell Aunt Rhody,
Go tell Aunt Rhody,
That everybody's dead.

I was raised in a deep dark hole,
A prisoner with no parole.
They locked me up and took my soul,
Ashamed of what they'd made.

Go tell Aunt Rhody,
Go tell Aunt Rhody,
Go tell Aunt Rhody,
That everybody's dead.

I called to him and he will come,
She'll answer him like he's the one.
His arm's outstretched but when she's done,
He'll be torn apart.

Go tell Aunt Rhody,
Go tell Aunt Rhody,
Go tell Aunt Rhody,
(piano replicates the words "that everybody's")

Go tell Aunt Rhody,
Go tell Aunt Rhody,
Go tell Aunt Rhody,
That everybody's.
Everybody's,
Everybody's,
Dead.

(Go tell Aunt Rhody)
(Go tell Aunt Rhody)
(Go tell Aunt Rhody)