The Handgun PC356 is a weapon from Resident Evil: Revelations, where it is the second handgun available. Jessica is equipped with this weapon only during the Terragrigia Panic. Raymond Vester made use of this gun during the Queen Zenobia Incident along with his partner Rachel
Gameplay
PC356 stats

| | |
| --- | --- |
| Firepower | 130 |
| Auto Fire | 1.58 |
| Capacity | 8 |
| Custom Slots | 5 |
It is available to those who defeat 150 enemies in the campaign, and it is deposited into the customization benches. It has an initial fire power of 130, a firing rate of 0.80, and an 8-round capacity. Although it lacks in firepower compared to the Beretta, it makes up for it in that it has 5 customization slots compared to the Beretta's 3.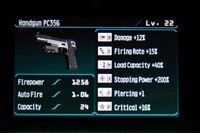 In Raid Mode the PC356 carries over the same traits as it's campaign counterpart. The handgun generally has lower stats compared to other handguns but makes up for it by having more customization slots. However these stats are not consistent as each weapon is different and directly depends on various factors such as the player's level.
Recommended Custom Parts
The PC356 has 5 customization slots. Due to this handgun being weak in firepower, a slightly slower firing rate and a low capacity, it is recommended to fill the slots with these custom parts:
Damage 1-5
Fire Rate 3
Long Magazine 4
Bind 2
Daze 2
Gallery
items
Resident Evil: Revelations navigation · Items by game
Keys
Event items
Weapons
Custom Parts

Autoloader
Bind
Brass Knuckle
Burst
Capacity
Charge shot
Critical
Damage
Daze
Edge Runner
Enrage
Fire Rate
Infighter
L. Mag
Narrow
Outrage
Piercing
Reloader
Wide
Gluttony
Cornucopia
Bottomless Pouch
Aura of Strength
Medical Kit
Fertilizer
Ammo Magnet
Fangs
Boost
Metal Detector
Dehumanizer
Poisonous Lure
Hunting Gear
Giant Rabbit's Foot
Green Belt
Easy Hit
Cloak
Enrage
Rare Finder
BSAA
FBC
S.T.A.R.S.
Other

Maps
Other
Community content is available under
CC-BY-SA
unless otherwise noted.