"
Blocked, RT.
"
— Kamiya's popular phrase on
Twitter
Hideki Kamiya (神谷 英樹, Kamiya Hideki?, born December 19, 1970) is a video game designer formerly employed by Capcom and "Clover Studio". He is currently working with former Clover Studio members at Platinum Games.[1]
Career
After graduating from college, Kamiya applied for jobs at various game developers. He was turned down by SEGA and had an application accepted by Namco. However, Namco wanted him to be an artist rather than his desire to be a game designer.[2] Kamiya joined Capcom as a designer in 1994. His early works included planner of the original Resident Evil and director of Resident Evil 2 at age 23.[3] He was also the writer for Resident Evil 2, though his script was totally re-written by FLAGSHIP.[4] He was later the director of both Devil May Cry and the original Viewtiful Joe. In 2006, Kamiya worked as the director for the PlayStation 2 version of Clover Studio's Ōkami.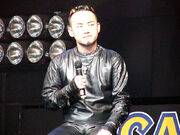 He joined former Capcom colleagues, including Atsushi Inaba and Shinji Mikami, to create a new company, shortly before Clover Studio was closed by Capcom in late 2006.[1] This new company, later named PlatinumGames, announced a three-game deal with publisher SEGA. Included in the deal was an original game by Kamiya titled Bayonetta.
As a game designer, Kamiya states that he has been most inspired by the games The Legend of Zelda: A Link to the Past and Gradius. His favorite action game is the original Castlevania.[6]
Contributions to the franchise
Kamiya was responsible for providing the name "Joseph" to the character Joseph Frost, taken from "Joseph Joestar" of the Japanese manga Jojo's Bizarre Adventure.[7] Hideki has also credited himself with the conceiving of Brad Vickers returning as a zombie in Resident Evil 2,[8] along with the establishment of character traits in that game.[9] A specific example of this is the idea of Elza Walker/Claire Redfield being a biker.[10]
Resume
References
External links