Jack's 55th Birthday is a minigame for Resident Evil 7: Biohazard. It is scheduled for release as part of the "Banned Footage Vol. 2" DLC on 14 February 2017 on the PlayStation 4, with a PC and Xbox One release projected for 21 February.
Description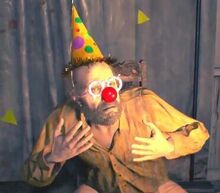 It's Jack's birthday, but he's not interested in presents. It's food he wants, so find some for him as fast as you can.
Gameplay
You play as Mia Winters in this minigame. The objective is to feed Jack with food and drink found around the stage until his satisfaction level reaches full while a countdown timer is played. Some foods can be combine to help raise Jack's satisfaction level even more.
There are six stages, only Guest House I is initially available and each following stage is unlocked by getting a B rank.
In each stage, you begin in the Start Area where there is an Item Box. Each stage will have predetermined items inside to use. As the stages are completed, new items and skill items will be added to the Item Box for all stages. Players can also save and load their load outs to make re-trying stages easier. The timer will start once the player leaves the Start Area.
Additional predetermined items are also found on the map of each stage.
There are enemies loitering around the stage that you can damage or kill to temporarily stop the countdown timer. Some doors will only open after defeating certain enemies. Different enemies damaged or killed with different weapons will give different time bonuses. Certain enemies are set to keep respawning and others will only appear once.
Also in some stages, Mr. Everywhere can be destroyed to get a bonus that multiplies your current time bonus. There are also two temporary weapon "power ups" that replaces your weapon with a very powerful one for a short time.
The player's grade is based on their remaining time and can be C, B, A, S, or SS.
Strictly aesthetically, during this mode most weapons will shoot bursts of confetti and all enemies will be wearings hats. Mia will also have a health bar shown.
Grades
| | Guest House 1 | Testing Area 1 | Main House 1 | Guest House 2 | Testing Area 2 | Main House 2 |
| --- | --- | --- | --- | --- | --- | --- |
| C Rank | | | | | | |
| B Rank | | | | | | |
| A Rank | | | | | | |
| S Rank | | | | | | |
| SS Rank | | | | | | |
Stages
Guest House 1
Testing Area 1
Main House 1
Main House 1 featured three separate enemies to be defeated to unlock the entire building.
Guest House 2
Testing Area 2
Main House 2
Food
Gallery
Loading screens
Sources
Community content is available under
CC-BY-SA
unless otherwise noted.