"The number 002 is engraved."
— Item description.
Key for Room 002 is a key item that can be found in Resident Evil.
Purpose
It opens the room with "002" plate at the Dormitory corridor.
Location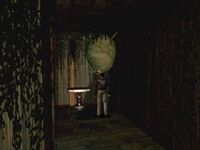 The key can be found in the Gallery, under the bee hive. Player must run away after obtaining the key, to avoid being attack by the Wasp.
Community content is available under
CC-BY-SA
unless otherwise noted.