Prime universe
(Capcom's primary storyline)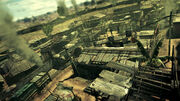 Kijuju was a West African city and namesake of the Kijuju Autonomous Zone.
History
| | |
| --- | --- |
| | This section is empty. You can help out the Resident Evil Wiki by adding to it. (May 2018) |
Geography
Kijuju was an isolated city, surrounded by coastline; savannah and wetlands. A river cut through the city, separating the more prosperous areas from the shanty town.
Economy
The city's economy was heavily dependent on a quarry, and the railway lines which exported the materials elsewhere. There was a limited fishing enterprise on the coast, supporting a marketplace near the shanty town. The city also had a growing technology industry, with the Amani General Service Agency providing computer service training.
Sources