| | |
| --- | --- |
| | This section is not intended for generic trivia - defined here. It is only a placeholder for notable information not yet placed into other sections. |
"LEON IS AN IDEALISTIC ROOKIE COP. HE BURNS WITH THE NEED TO PROTECT AND SERVE, AND LIFE AS A CADET WAS AN EYE-OPENING EXPERIENCE. WHILE RECKLESS AND BRASH, LEON IS CERTAINLY NOT AS NAIVE AS HIS DEMEANOR WOULD SUGGEST. HE IS HIGHLY QUALIFIED FOR HIS NEW JOB WITH THE RACCOON POLICE."
— Resident Evil 2 Nintendo 64 Manual, p.3
Wardrobe
Resident Evil 2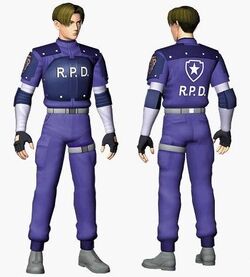 Leon wears a full-body R.P.D. uniform in Resident Evil 2 with a vest, in contrast to other officers in the game who wear summer uniforms. This outfit is predominantly different shades of blue. He has two alternate costumes to wear in the game that changes his shooting style with the Handgun. The first is a casual outfit consisting of a leather jacket with a picture of a skull on the back and jeans, while the second costume is a tank top with cargo pants and an R.P.D. cap. The Nintendo 64 version replaced these costumes with a S.T.A.R.S. uniform and another consisting of camouflage pants with T-shirt, leather vest and sunglasses. In the FMV scenes in Resident Evil 2, his brown hair becomes copper shade and his eyes are blue instead of brown.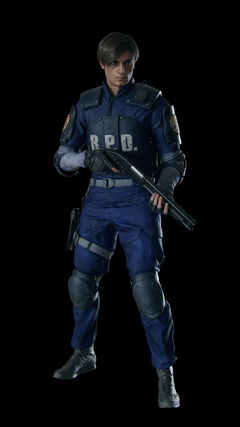 This outfit is used again as an alternate costume in 2019 remake as the graphics of the game appears much more realistic similar to Resident Evil 7: Biohazard. Leon's brown hair resembles his current hairstyle in both Resident Evil 6 and Resident Evil: Vendetta and his primary attire became dark blue and his vest is dark gray.
Resident Evil 4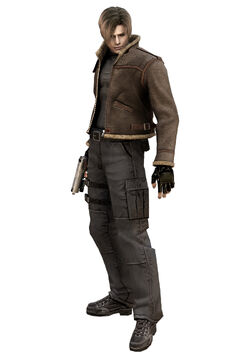 In Resident Evil 4, Leon wears a short-sleeved black 5.11 shirt, blue 5.11 pants, black Magnum combat boots, and a brown B3 sheepskin bomber jacket. However, he loses the jacket early in the game, much to the chagrin of players who liked its look.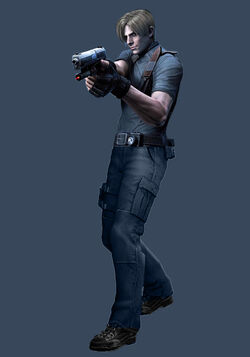 When playing Ada's scenario Separate Ways, you do however learn the previously unknown fate of the jacket; it was stolen by a Ganado when Leon and Luis were captured at the end of Chapter 1-1. He sports a variety of equipment and gear around his waist, including an attaché case on the small of his back, double pistol magazine pouches, navigation light, rappel, and radio pouch. A drop leg holster is strapped to his thigh, and he also wears a brown leather shoulder holster. Later in the game, the player has the option of acquiring the Tactical Vest, which puts a black assault vest and assorted gear on over Leon's standard outfit. The vest reduces damage by 30%.
After the player beats the game for the first time, they unlock Leon's classic R.P.D. uniform from Resident Evil 2, albeit updated. This updated uniform was used again in Darkside Chronicles for "Memories of a Lost City".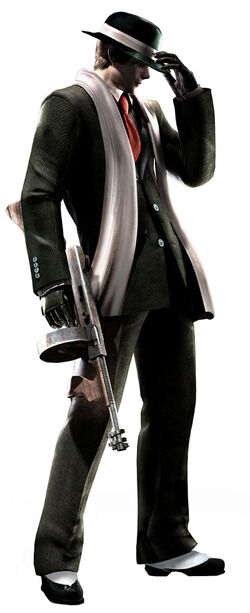 In the PlayStation 2 and Wii ports of RE 4, he is given a classic mafia-style outfit that is unlocked along with the Chicago Typewriter after the player clears the "Separate Ways" scenario. Since the typewriter has infinite ammo, Leon will simply tilt his hat when the reload button is pushed and if the player hits reload four times, Leon will throw his hat in the air and catch it. Wearing the Mafia costume will change Leon's pose on the attaché case screen while the typewriter is equipped and will change the typewriter's magazine from a standard box magazine to a drum magazine. The Mafia outfit also changes the look of Leon's knife. Instead of a, Combat Knife it becomes a switch-blade to complete the authentic criminal motif. This change is purely cosmetic, and does not affect the performance of the knife at all.
Degeneration
Leon's Degeneration attire is similar to that of his outfit from RE 4, albeit with a new, leather jacket, lighter gray "5.11" shirt, and different-coloured pants.
Darkside Chronicles
Damnation
In Damnation, Leon wore a black operator jacket, blue stone washed jeans, tan boots, TMC Tactical Gloves and a green Bulletproof/MOLLE vest to go along with carrying several pouches, Magazines flares and a flashlight. He also wears a utility belt with several more pouches and hip holster for his pistol. He carries his Assault Rifle on a single point sling. Leon's hair is slightly longer and he has a small beard. He is later seen wearing a similar shirt to that of RE4.
Resident Evil 6
In Resident Evil 6, Leon is wearing clothes of a civilian nature in comparison to his tactical attire from RE 4. He sports a dark grey or black leather jacket with white stripes on the sleeves, a black buttoned shirt, and a red T-shirt beneath that. His pants are a light grey, and he wears similar shoes to his RE 4 incarnation.
Leon has a second outfit consisting of a blue long sleeve button shirt, a black waistcoat and pants and boots.
Vendetta
In the movie Resident Evil: Vendetta, Leon's brown hair becomes darker and wears an outfit similar to his first outfit in Resident Evil 6, as his red button shirt is replaced with a dark blue v-neck undershirt and his black leather jacket now has two white stripes down each sleeve, his jeans are also black and wears fingerless rider gloves. Leon also wears a brown nylon utility belt where he keeps both his handgun and his survival knife.
Sources
↑ Resident Evil 2 (2019), scene: "No Way Out opening"
↑ Resident Evil 2 (2019), scene: "No Way Out ending"
Community content is available under
CC-BY-SA
unless otherwise noted.