Fire Emblem Warriors: Three Hopes - The Loop
Play Sound
Prime universe
(Capcom's primary storyline)
Lily Klein was a citizen on Umbrella's planned community on Sheena Island.
Biography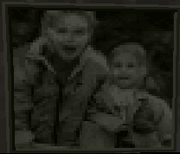 Born sometime around 1990, Lily grew up being brainwashed by Umbrella's supremacist values. She lived in a house against a ditch with her 'gentle' mother, 'burly' father and her brother, Lott Klein.[1][excerpt 1]
In late November 1998, Sheena Island fell to a t-Virus outbreak. She obeyed her parents' instructions prior to their deaths, and fled with her brother to safety. Dressed in bear applique overalls, she spent the better part of two days hiding in the Umbrella office building in the city centre, waiting for Lott to return with help.[2][excerpt 2]
Lily was discovered by Ark Thompson as she played with the facility's computer, playing voice recorded messages from Commander Vincent Goldman's mother. Terrified by the stranger, she ran from Ark, who was then forced away by Lott. The two children ran back to their house. Lott hid her in their nursery as he set off to gain access to the city's subway system. Ark found her as he searched their house, and eventually succeeded in convincing her he wasn't going to hurt her.
Lily later joined with Lott and Ark as they teamed up together to reach the heliport on the other side of the subway line. They got to a helicopter and took off as the island's facilities exploded.
Gallery
Bibliography
Sources
excerpts
↑ Excerpt from BIOHAZARD GUN SURVIVOR GUIDEBOOK, p.125:
"ロットの妹。ほんの2日前までは、 たくましい父と優しい母、 仲のいい兄に囲まれて幸せな日々を送るごく普通の8歳の女の子だった。事件発生時に、 早く逃げるようにと叫ぶ最後の両親の言いつけを素直に守って、 いち早くアンブレラビルへと逃げ込み難を逃れる。その後、 街を包む怒号と悲鳴が消えるまで小猫のように震えながら身を潜めていたのだ。なんとかロットとは再会できたものの、 この世界に頼れる存在が兄ひとりだけになってしまったことを知る。"
↑ Excerpt from BIOHAZARD GUN SURVIVOR GUIDEBOOK, p.23:
"街の中央に建つ巨大なビルで主人公が出会う10歳にも満たなさそうな少女。クマのアップリケのついたオーバーオールとふたつ結びにした髪が特徴の、 どこにでもいそうな女の子だ。この惨劇の中を、 身を隠しながらなんとか生き延びていたそうで、 怯えきっており、 やはり主人公の手から逃げ出そうとする。"
references