"It's a death mask without a mouth."
— Item examination.
The Mask without a mouth is a key item in Resident Evil. It is mentioned in the Book of Curses as "a mask that speaks no evil".
Purpose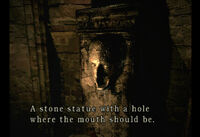 It is one of the four Death Masks needed to release the coffin inside the underground crypt. The mask is to be placed on the statue with the "A stone statue with a hole where the mouth should be." localization upon examine.
Location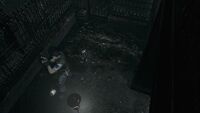 The "Mask without a mouth" can be retrieved from the Spencer Mansion's Portrait room after completing a puzzle involving stained-glass windows. It will be in an outside section next to the gate leading to the cemetery behind the hall.
Bibliography
Gallery
Sources
Community content is available under
CC-BY-SA
unless otherwise noted.