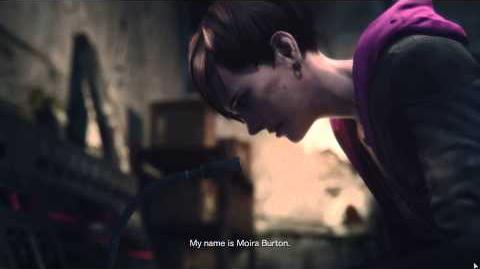 Moira's Desperate Call is a cutscene in Resident Evil: Revelations 2. It is the ending cutscene to the "Episode 1: Penal Colony" (Claire's part). In the Japanese version it is known as Moira's communication (モイラの通信, Moira no tsūshin?).
Plot
The cutscene show Moira made a desperate call, while Claire watches the island surrounding on top a radio tower.
Transcript
Moira : So?
Claire : No. It's dead.
Claire : You stay here. I'm gonna go check it out.

---
Claire : Right.
Claire : This better work...
Moira : Fuck! Is anyone picking this up?
Moira : My name is Moira Burton.
Moira : My coworkers and I were taken here against our will.
Moira : I don't know where.
Moira : We have these fucked-up bracelets and this crazy woman is talking to us.
Moira : Some kind of monsters have killed the others.
Moira : Please, send help.
Moira : Please...
Moira : Shit! One more time
Moira : My name is Moira Burton.
Claire : Oh, God...
Claire : What is this place?

The original Japanese transcript for this file is not yet present. Please add it.
Community content is available under
CC-BY-SA
unless otherwise noted.