m (Added FOR template to avoid confusion with prime universe, added note about design being similar to an unused Prime Universe design.)

Line 1:
Line 1:
 

{{articletype|wildstorm}}

 

{{articletype|wildstorm}}

 
+

{{For|the creature from the Prime Universe|T-00}}

 

[[File:WildStorm - Mr.X.png|thumb|right]]

 

[[File:WildStorm - Mr.X.png|thumb|right]]

 

'''Mr. X''' was a series of bio-weapon designed by the [[Umbrella Corporation (WildStorm)|Umbrella Corporation]]. Its appearance is similar to the [[Tyrant (WildStorm)|Tyrant]]. The only known Mr. X was dropped by an Umbrella helicopter onto the [[Raccoon City Police Department (WildStorm)|Raccoon City Police Department]] to silence the company's enemies.<ref>''[[Resident Evil: The Official Comic Magazine]]'', [[Resident Evil Vol 1 Issue 4|Issue #4]].</ref>

 

'''Mr. X''' was a series of bio-weapon designed by the [[Umbrella Corporation (WildStorm)|Umbrella Corporation]]. Its appearance is similar to the [[Tyrant (WildStorm)|Tyrant]]. The only known Mr. X was dropped by an Umbrella helicopter onto the [[Raccoon City Police Department (WildStorm)|Raccoon City Police Department]] to silence the company's enemies.<ref>''[[Resident Evil: The Official Comic Magazine]]'', [[Resident Evil Vol 1 Issue 4|Issue #4]].</ref>

 
+
 
+

==Further notes==

 
+

*The design bears a strong resemblance to an unused design of the Tyrant from CAPCOM's Prime Universe.<ref>''Resident Evil Archives'', Page 216, [[:File:Resident_Evil_Archives_-_page_216.jpg|Figure 15]].</ref>

 
 
 

==Sources==

 

==Sources==

 

<references/>

 

<references/>

−
 
 

{{WildStorm creatures}}

 

{{WildStorm creatures}}

 

[[Category:WildStorm creatures]]

 

[[Category:WildStorm creatures]]
---
Revision as of 19:02, 4 April 2019
Wildstorm universe
(Covers information from the D.C. comics)
For the creature from the Prime Universe, see T-00.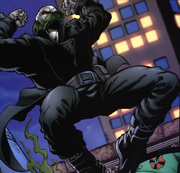 Mr. X was a series of bio-weapon designed by the Umbrella Corporation. Its appearance is similar to the Tyrant. The only known Mr. X was dropped by an Umbrella helicopter onto the Raccoon City Police Department to silence the company's enemies.[1]
Further notes
The design bears a strong resemblance to an unused design of the Tyrant from CAPCOM's Prime Universe.[2]
Sources
Community content is available under
CC-BY-SA
unless otherwise noted.