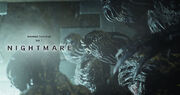 "The Escape Ends Here
Clancy tried his best, but couldn't outrun Jack. Dragged to the basement staircase and thrown inside, Clancy is still gagging on the mold-choked air as Jack slams the door on his escape, saying "You just sit tight right, now... I've got some friends I want you to meet.""
— Nightmare opening scene
Nightmare is a minigame for Resident Evil 7: Biohazard. It was released as part of the "Banned Footage Vol. 1" DLC on 31 January 2017 on the PlayStation 4, with a PC and Xbox One release projected for 21 February.
Gameplay
A round-based, survival horde game mode where waves of Molded inhabiting the Dissection Room haunts and assaults the player. Players take control over Clancy Jarvis who has been captured. The main objective is to "Survive until Dawn" battling against the said enemies and ultimately Jack Baker.
Players starts at a workshop where they can construct their arsenal via scraps, be it skills to augment their capabilities passively or a plethora of weaponry. Scraps in itself is made available via Compactors; stationary points that can be activated thus generating a steady flow of scraps for the players' benefit. The price of all items and skills will increase with each succeeding purchases, making resource/ scrap management a must. Scraps can also be used to activate a good selection of traps attached to walls or on the ground. 
Some areas can be unlocked through the use of Corrosive, providing more accessible areas ergo more compactors as well as more available traps.
There are 5 rounds, each indicated by the hours up to 5 am. An army of Molded will spawn throughout the rounds, with Jack himself appearing in rounds 2 and 5. For each round that the player survives, they will be rewarded with a high amount of scrap in relation to the number of enemies they killed as well as remaining number of scraps.
Each round's end is signaled with an alarm, to which compactors will seize functioning within 40 seconds and remain inactive until the next round starts. Players are required to eliminate any remaining enemies in order to progress to the next hour/ round. Any scraps that are yet to be picked by the players when the compactors halts are still available for the players to pick however.
Jack appears in the end of rounds 2 and 5, each in a differing incarnation with the last being his scissor-saw version. Defeating him in both instances are necessary for progression sake and rewards players with large amounts of scraps that will help players survive the next rounds/ tally towards the final score in unlocking more things that will be made available in any subsequent replays of the mode. Jack does NOT show up in any other rounds however.
Completing the mode tallies the player's score to a total, which serves as an "achievement checklist" of a sort where hitting certain total score thresholds will unlock more options for players to craft in the game mode; more weapons, more starting scraps, skills, etc.
Items and Skills
Items
Skills
Skill
Description
Lv.2

cost

(inc.)

Lv.3 cost

(inc.)

Lv.4 cost

(inc.)

Lv.5 cost

(inc.)

Lv.6 cost (inc.)
Compactor Upgrade
Increase output
2500

(50%)

Health Upgrade
Increase max health
100

(20%)

200

(40%)

300

(60%)

400

(80%)

500

(100%)

Heal Upgrade
Recover more health with items
250

(50%)

500

(100%)

NA
NA
NA
Speed Upgrade
Increase movement speed
500

(20%)

1000

(30%)

NA
NA
NA
Reload Upgrade
Increase weapon reload speed
500

(20%)

1000

(30%)

Handgun Upgrade
Increase firepower
500

(60%)

1500

(140%)

NA
NA
NA
Shotgun Upgrade
Increase firepower
500

(80%)

Machine Gun Upgrade
Increase firepower
500

(60%)

1700

(130%)

NA
NA
NA
Melee Upgrade
Increase firepower
500

(60%)

44 MAG Upgrade
Increase firepower
1000

(60%)

Grenade Launcher Upgrade
Increase firepower
1000

(60%)

Burner Upgrade
Increase firepower
500

(60%)
The P19 Machine Gun, Burner and its ammunition and upgrades will likely be made available for crafting in subsequent playthroughs as they require a minimal amount of total score to unlock.
Rewards
| Points | Reward |
| --- | --- |
| 5,000 Points | Starting Scrap +250 |
| 10,000 Points | Machine Gun Set |
| 20,000 Points | Nerve Gas Traps |
| 40,000 Points | First Aid Med +3 |
| 80,000 Points | Burner Set |
| 100,000 Points | Adrenaline |
| 150,000 Points | Flammable Drums |
| 200,000 Points | 44 MAG Set |
| 300,000 Points | Circular Saw |
| 450,000 Points | Starting Scrap +250 |
| 700,000 Points | Neuro Rounds |
| 1,000,000 Points | Enhanced Handgun Ammo |
| 1,500,000 Points | Strong First Aid Med |
| 2,000,000 Points | Starting Scrap +250 |
| 3,000,000 Points | Remote Bomb Set |
| 4,000,000 Points | M21 Shotgun |
| 5,000,000 Points | Albert-01R |
| 7,000,000 Points | Starting Scrap +250 |
| 10,000,000 Points | Infinite Ammo |
Sources