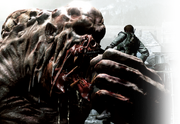 The Ogroman is capable of three attacks.
Attack
Description
Crushing hit (

叩き潰し

Tataki tsubushi)
Crushing stomp (

踏み潰し

Fumi tsubushi)
振り潰し
In Chris' campaign there are three that are versed, one towards the beginning of Chapter 2-1 and two more later on (a new one dropped in and the original one which comes back). In Jake's campaign the two are also versed along with Chris in chapter 1-3 and on the Mercenaries map Requiem for War where will spawn randomly. To take them down, you need to shoot the pink exposed flesh on their back enough times (preferably with a heavy or quick firing weapon) and eventually it will sink to its knees in pain. When it does this, if you climb onto one of the ledges nearby you will be promoted to jump on its back and perform a QTE to rip out one of its bones and stab it into the flesh, killing it and dropping 4,000 skill points.
An alternative is that after destroying the three turrets which the J'avo are controlling, air support can come in and will bomb the Ogrymen, also killing them.
Bibliography
Edit
Community content is available under
CC-BY-SA
unless otherwise noted.