The P-Epsilon Gas Report is a file that can be found in Resident Evil 2.
Location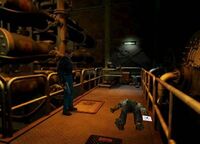 The file can be found inside the Pump room, nearby a dead researcher corpse.
Transcript
INVESTIGATIVE REPORT ON P-EPSILON GAS

-This report demands immediately attention-

The P-Epsilon gas has been proven capable of incapacitating all know B.O.W.s (Bio-Organic Weapon). As such, it has been designated for emergency usage in the event of a B.O.W. escape. Reports based on data collected during the prior incidents indicate the potential for negative side effects.

The P-Eplison has proven to weaken the B.O.W.s' cellular functions. However, prolonged exposures will result in the creation of adaptive antibodies to the agent. Furthermore, some species have been observed to absorb the P-Eplison gas as a source of nutrition and use the toxins extracted against anything that is a threat. Use of P-Eplison gas should be severely limited to extreme cases only. We strongly request the authority to re-evaluate the P-Eplison gas development system. We would like this re-evaluation to take place immediately.

2nd R&D Room/Security Team
P-εガスに関する追跡調査報告

-これは緊急を要する研究報告である-

P-εガスは生物兵器B.O.W.(BIO ORGANIC WEAPON)に対して使用すると、対象の抵抗力を弱らせ弱体化させる事が判明している。
そこでB.O.W.暴走時の緊急鎮圧用撒布ガスに決定しているが、さらなる追跡調査により意外な弊害が生じることが判明した。
B.O.W.はP-εガスの効果で細胞活動を抑えられ弱体化するのだが、これが長時間に及ぶと内部で抗体を作り出し環境に対応してしまうのである。
それどころかP-εを養分として分解吸収し、その過程から抽出した毒物を外敵への攻撃手段として用いる能力を持つにいたる種も確認されている。
つまり、P-εガスの使用は極力避けねばならない事を示している。
以上の事からP-εガス撒布機構の即時見直しを要求するものである。

第2研究開発室 安全対策班
Gallery
Official localisation
Original script
Community content is available under
CC-BY-SA
unless otherwise noted.