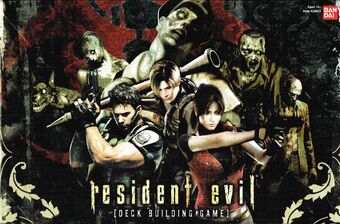 Resident Evil: The Deck Building Game 
Premier Pack

Resident Evil: The Deck Building Game is a Bandai-produced card game released in December 2010. The base game was subtitled Premier edition to better differentiate it from its expansion packs and the standalone expansion, Alliance.
Card Nomenclature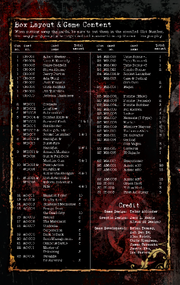 CH-000 - Character Cards
WE-000 - Weapon Cards
AC-000 - Action Cards
MA-000 - Mansion Cards
AM-000 - Ammunition Cards
IT-000 - Item Cards
Character Cards
CH-001 Albert Wesker
CH-002 Leon S. Kennedy
CH-003 Claire Redfield
CH-004 Sheva Alomar
CH-005 Barry Burton
CH-006 Ada Wong
CH-007 Jack Krauser
CH-008 Chris Redfield
CH-009 Jill Valentine
CH-010 Rebecca Chambers
Weapon Cards
WE-001 Grenade
WE-002 Longbow
WE-003 Submission
WE-004 Combat Knife
WE-005 Survival Knife
WE-006 Six Shooter
WE-007 Gatling Gun
WE-008 Rocket Launcher
WE-009 Handgun
WE-010 Burst-Fire Handgun
WE-011 Assault Machine Gun
WE-012 Full-Bore Machine Gun
WE-013 Pulp-Action Shotgun
WE-014 Automatic Shotgun
WE-015 Bolt-Action Rifle
WE-016 Semi-Automatic Rifle
Action Cards
AC-001 Mansion Foyer
AC-002 Deadly Aim
AC-003 Shattered Memories
AC-004 Escape From the Dead City
AC-005 Reload
AC-006 The Merchant
AC-007 Umbrella Corpotarion
AC-008 Back to Back
AC-009 Item Management
AC-010 Ominous Battle
AC-011 Master of Unlocking
AC-012 Struggle for Survivor
Mansion Cards
MA-018 Time Bonus+1
MA-019 Time Bonus+2
MA-020 Time Bonus+3
MA-021 Combo Bonus
MA-012 Rocket Launcher Case
MA-013 Gatling Gun Case
MA-001 Majini
MA-002 Zombie (Male)
MA-003 Zombie (Female)
MA-004 Zombie Butcher
MA-005 Bui Kichwa
MA-006 Licker
MA-007 Nemesis (T-Type)
MA-008 Hunter
MA-009 Mimicry Marcus
MA-010 Uroboros Aheri
MA-011 Dr.Salvador
MA-014 Gatling Gun Majini
MA-015 Cerberus
MA-016 El Gigante
MA-017 Executioner
Ammunition Cards
AM-001    Ammo x10
AM-002    Ammo x20
AM-003    Ammo x30
Item Cards
IT-001 Green Herb
IT-002 Yellow Herb
IT-003 First Aid Spray
---
Community content is available under
CC-BY-SA
unless otherwise noted.