Extracanonical subject
(Unique game aspects not part of story canon)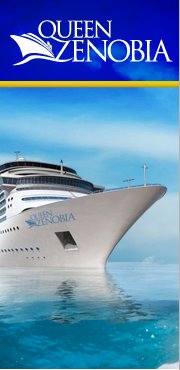 Queen Zenobia Cruise Lines is a non-canon ARG made for the advertisement of Resident Evil: Revelations. Its basis is the Queen Zenobia's owners who, in the ARG, is named "Queen Zenobia Cruise Lines".
In-game story
Queen Zenobia Cruise Lines is a budget cruise line active in the Mediterranean, founded by Lodovico Boccaccio in 1996. In March 2003 it was announced that owing to recent deaths stemming from poor hygiene, the company was going through an overhaul and would be moving out of Terragrigia.[1]
Hidden content
The about page for the official website contains a hidden clue. Highlighting the text, a message is revealed, saying "the password is ghost ship".
The gallery page, which shows pictures of some of the people who had taken the cruise to Trapani, Sicily. The bottom-left picture of a rather-unhappy man, when clicked upon, reveals his face in a zombie-esque manner on the viewing window. Rather than spell out his name, the photograph instead reads "557801BSAA0999".
Codes
About Us Page hidden code: NAN88744BSAA1011
Zombified Tourist: 557801BSAA0999
Reviews page Source Code: 009854BSAA7410
Sweepstakes Entry page: 584135BSAA7410
Press Release: 571891BSAA0001
Terragrigia Information video link: 990123BSAA1355
Ticket Error: 519043BSAA1786
Terragrigia Promo: 121770BSAA9987
Agaeon promo: 124555BSAA9980
Valentine's Day Promo: 345212BSAA1145
Sources
↑ Press_Release.pdf. queen-zenobia.com. Archived from the original on 05-01-2012.
Community content is available under
CC-BY-SA
unless otherwise noted.