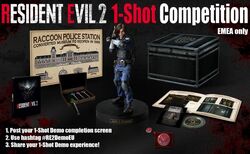 The RESIDENT EVIL 2 1-Shot Demo Competition was a Twitter campaign ran by @RE_Games to promote the RESIDENT EVIL 2 1-Shot Demo and its full game.
EMEA players who posted a screenshot of the completion screen from the 1-Shot Demo with the #RE2DemoEU hashtag had the chance to earn a Resident Evil 2 Collector's Edition (EU version).[1]
A separate campaign was ran by @Capcom_UK where EMEA users could win a copy of the Resident Evil 2 remake on the system of their choice.[2]
Sources
↑ Resident Evil on Twitter: "☣️ EMEA only Want a shot at winning a grand prize? From January 11th, post your 1-Shot Demo completion screen with the hashtag #RE2DemoEU for a chance to win a #RE2 EU collector's edition! T&Cs: https://t.co/Fwzt9zidch Privacy Policy: https://t.co/M9x7lEzN26… https://t.co/eWQsze6V7A"
↑ Capcom UK on Twitter: "(EMEA only) Want to win a copy of #RE2 on your system of choice? 3 winners randomly selected. All you have to do is: 1. Retweet: https://t.co/D57PadQIf9 2. Reply to this post with #IWantRE2EU T&Cs: https://t.co/Wg52x3hdfY Privacy Policy: https://t.co/xEyfcJh0kq… https://t.co/DLpbRpEDP2"
Community content is available under
CC-BY-SA
unless otherwise noted.