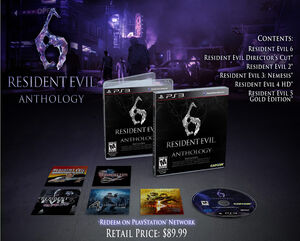 RESIDENT EVIL 6 ANTHOLOGY is a collector's edition version of Resident Evil 6 for the PlayStation 3. Resident Evil 6 is the only physical disc in the set - the rest are digital in nature. This version of the game came out on October 2, 2012 in the United States, and will be priced at $89.99.[1] Its content are as follows:
Additional notes
This set, is the occidental version of the Biohazard 15th Anniversary Collection that will be released in Japan shortly, except that it will not have Biohazard 6.
As it is a PS3 edition, the Nintendo-exclusives (e.g. Resident Evil 0 and the 2002 Resident Evil) will not appear.
Sources