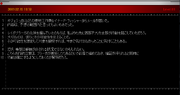 Report 090216 was filed by Ryan on the BSAA Remote Desktop on 16 February 2009.
Transcript
2009.02.16 18:13 Level.06

An e-mail has arrived from Reynard Fisher, our on-site spy in the Kijuju Autonomous Zone.
It can be said that its contents were within expectations.

If Rey noticed the symptoms of the Plagas, the West African branch seems to have taken action faster than me.
It is important to tell their possibility.
If you observe the subject assuming that possibility, sometimes you notice things you didn't notice before.

However, contemplation isn't allowed given the current situation. Plan carefully, proceed with the assumption that the Plaga is spreading, it would be wise to take action as soon as the confirmation.
2009.02.16 18:13 Level.06

キジュジュ自治区の現地工作員レイナード・フィッシャーからメールが届いた。
内容は、予想の範囲内と言ってもよいものだった。

レイがプラーガの兆候を掴んでいたのならば、私よりも先に西アフリカ支部が行動を起こしていただろう。
大切なのは、彼らにその可能性を伝えることだ。
その可能性を想定して対象を観察すれば、今まで気付かなかったことに気付くこともある。

だが、事態は静観が許される状況ではないかもしれない。こさらの作戦立案は、プラーガが蔓延しつつあるという前提で進めておき、確証が得られると同時に行動が起こせるようにしておくのが賢明だろう。
Community content is available under
CC-BY-SA
unless otherwise noted.