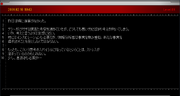 Report 090218 was filed by Ryan to the BSAA Remote Desktop on 18 February 2009.
Transcript
2009.02.18 18:43 Level.06

There was no progress yesterday in particular.

Although I was investigating while considering the Plagas, I'm only thinking of bad ideas.
No, this is closer to delusions than ideas.
Sometimes inspiration is needed, but information analysts gather facts, and then try to derive new facts.

Moreover, being in this kind of spiral thinking will lead to a lot of stress buildup.
Maybe I need to take a break...
2009.02.18 18:43 Level.06

昨日は特に進展がなかった。
 
プラーガに対する調査と考察を進めていたが、どうしても悪い方にばかり考えが向いてしまう。
いや、考えと言うよりは妄想に近い。
時にはインスピレーションも必要だが、情報分析官は事実を積み重ね、新たな事実を導き出すことを是としなくてはならない。
 
もっとも、こういう思考のスパイラルに陥っているということは、ストレスが溜まっているのかもしれない。
少し、息抜きも必要か………
Community content is available under
CC-BY-SA
unless otherwise noted.