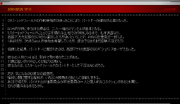 Report 090226 was filed by Ryan to the BSAA Remote Desktop on 26 February 2009.
Transcript
Edit
2009.02.26 17:11 Level.06

Chris Redfield's decision to participate in the operation required the selection of a partner.

When SOAs participate in an operation, a pair in a two-man cell is the basic.
For Mr. Redfield from North America branch, it'll be an operation on an unfamiliar land,
AMADI agreed that it would be better to select from West Africa branch's SOAs.
(as a side note, Suzuki wanted to participate, but she still lacks experience)

The partner was chosen as the result of the discussion, it was West Africa branch's SOA "Sheva Alomar".

I've obtained her personal file on an unrelated matter.
Despite being 23 years old she's highly capable as an SOA.
If it's her, there'll be no shortage as a partner for Mr. Redfield.

But what bothers me is her career.
Regulations on information disclosure, it's too severe for a SOA member.
It's just a rumor, but I also heard she has a personal connection with one of the standing members of the Bioterrorism Assessment Committee.
Is it related?
2009.02.26 17:11 Level.06

クリス・レッドフィールドの作戦参加が決まったことにより、パートナーの選抜が必要となった。

SOAが作戦に参加する場合は、二人一組の2マンセルが基本となる。
ミスターレッドフィールドにとっては不慣れな土地での作戦になるので、北米支部より、
西部アフリカ支部のSOAから選抜した方がよいということで、AMADIと意見が一致した。
(余談だが、うちのSuzukiが参加を希望していたが、彼女ではまだまだ経験不足だろう)

協議した結果、パートナーに選ばれたのは、西部アフリカ支部のSOA"シェバ・アローマ"となった。

彼女の人物ファイルは、別件で取り寄せたことがある。
23歳と若いがSOAとしての能力は高い。
彼女ならば、ミスターレッドフィールドのパートナーとして不足はないだろう。

だが、気になるのは彼女の経歴だ。
情報公開に関する規制が、いちSOA隊員のそれとしては厳しすぎる。
あくまで噂だが、バイオテロ評価委員会の常任委員の一人と個人的なコネクションがあるとも聞く。
それが関係あるのだろうか。
Community content is available under
CC-BY-SA
unless otherwise noted.