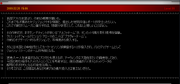 Report 090228 was filed by Ryan to the BSAA Remote Desktop on 28 February 2009.
Transcript
2009.02.28 15:06 Level.06

A mission summary has been received from the West African branch.
With information on Kijuju I have gathered so far, it seems the ground assessment report I submitted was useful.
As an information analyst, there is nothing more pleasing if the mission goes smoothly.

Here's the strategy, first, Dan DeChant will lead the "Alpha Team" by driving a Gambit.
The pair Chris Redfield and Sheva Alomar will be the "Bravo Team".
At an observer-like position of the operation, they should invade from the market side.

In addition, a helicopter piloted by Kirk Mathison will be deployed as a relay to the headquarters, and Josh Stone's Team will be on standby as the backup team.

It may seem exaggerated to arrest one trafficker, but Irving does business across continents, and considering his business partner is also American, his arrest is likely to be a clue into the Bioterrorism network.
If you think about it like that, this lineup may not be too excessive.
2009.02.28 15:06 Level.06

西部アフリカ支部より、作戦の概要が届いた。
これまで私が集めたキジュジュに対する情報と、提出した地勢評価レポートが役立ったらしい。
これで作戦がスムーズに進行すれば、情報分析官として、これ以上嬉しいことはない。

その作戦だが、まずダン・デチャントが率いる"アルファチーム"が、ガンビットを駆り取引現場を強襲。
クリス・レッドフィールドとシェバ・アローマの二人は"ブラボ-チーム"。
作戦のオブザーバー的なポジションで、市場側から侵入する。

さらには本部との中継役としてカーク・マシソンが操縦するヘリが投入され、バックアップチームとして
ジョッシュ・ストーンのチームが待機となる。

密売人一人を逮捕するのに大げさとも思えるが、アーヴィングは大陸をまたいで商売をしており、
今回の取引相手もアメリカ人ということを考慮すると、彼の逮捕がバイオテロネットワークの
解明の手がかりになる可能性は高い。
そう考えれば、この陣容もあながち戦力の過大投入とは言えないだろう。